Posts Tagged 'green web hosting'
If you're looking for a deal on a new web hosting package, here are some of the top web hosting offers for Black Friday, Cyber Monday and beyond:
Learn more about all these web hosting companies starting with our Top 10 Web Hosting list.
Hosting your website can take a tremendous toll on the environment.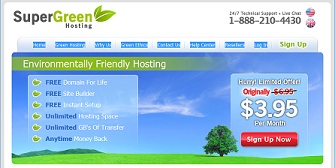 One way to reduce this environmental impact is to choose a green web hosting service. While this might seem like an expensive option, it is not. With the right company, you can get great and affordable web hosting with a minimal impact on the environment. SuperGreen is one of the best green web hosting companies out there, combining a great product with a low price and less of an environmental impact.
Read the full Supergreen Hosting Review
How SuperGreen Protects the Environment
SuperGreen uses Dell servers that create 20 percent fewer carbon emissions than standard servers. In addition, the company participates in 300 Trees, a tree-planting project that works to offset the emissions the servers do create. These two steps help combat the Greenhouse Effect, which is a main contributor to global warming.